How to Order a Ketubah
All ketubot are individually printed as fine art giclee prints on heavyweight art paper.
The prints are made with museum quality archival inks and will not fade over time.
1.    Choose an existing ketubah design
or commission an original design (see below).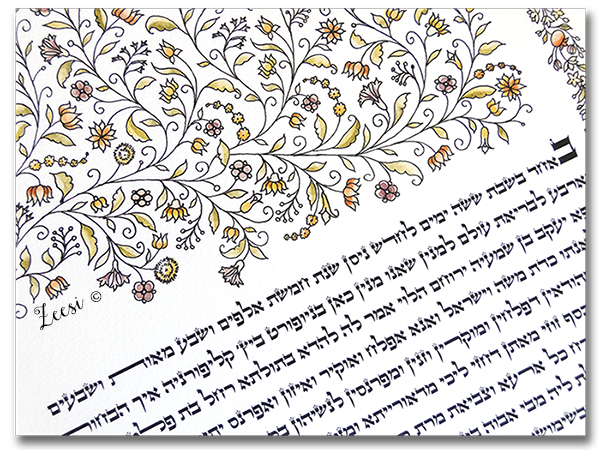 2.   Select Nusach (text)
Orthodox RCA Nachalat Shiva,
Orthodox Jerusalem Rabbinute Ashkenaz,
Orthodox Eidut Mizrach (Sefardi).
3.   Personalization
Personalizing your ketubah means adding the date, names, place and in some cases financial amounts. The advantage is that it assures that all issues of wording are thoroughly worked out before the wedding and handwritten mistakes are avoided. Proofs of the text are sent to your Rabbi for approval before printing. Also, personalizing means the text will be perfectly fitted to the image. You may order a ketubah without personalizing if you wish.
4.   Download Personalization form to begin order.
5.   Place order in my Ketubah Shop or feel free to Contact me.
How to Order Coordinated Benchers & Invitations
Custom design is my specialty and with a little vision we can create a beautiful collection together. Match your ketubah or choose from ready-made designs in my Bencher Shop or Invitation Shop. New invitation and bencher designs can be made from any artwork on my website or created from an original pattern.
1.    Choose design or commission an original design (see below)
choose your wording and request my Sample Fonts pdf form
coordinate with save the date cards, thank you cards, programs, place cards …..
2.    Prices are according to quantity.
Send me your potential order

to

info@zeesi.com

I will send an itemized price quote
3.    Contact me with any questions and to process order.
4.    Proofs will be sent for approval by e-mail before printing.
How to Commission an Original Design
What is your dream? Together we can create an original painting from your own concepts for a specific gift or event. My strength lies in drawing out your unspoken vision and giving it full expression. Pattern and color are my language.
In conversations I will listen to you. I will give your concept form, depth and color. Pencil sketches, then color proofs are sent by e-mail for your approval. Your input is always a priority which allows this work to be a unique reflection of you.
Focus on colorFocus on pattern
Be in contact through chat, email or phone to create your unique custom collection!
I look forward to hearing from you!
+1 973-348-5101 US (rings in Israel)
054-579-5477 Israel & Whatsapp